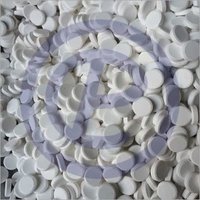 Sodium Dichloroisocyanurate
Price And Quantity
15

Metric Ton/Metric Tons
Product Specifications
2933692910

Used for sanitation and disinfection of swimming pools, hospitals, kindergardens, hotels, bleaching, drinking water cleansing
White powder, granules or tablets
Product Description
Available in white colored crystalline powder form, sodium dichloroisocyanurate is known for its distinctive smell that resembles to the odor of chlorine gas. The chlorine content of this chemical ranges between 60% to 64.5%.The chemical properties of this chemical remain stable under different temperature conditions. Its chlorine e content tends to decrease in 1% amount when it is placed in moisture and high temperature prone environment. With having 25%(25℃) water solubility, this chemical is reckoned for its easy dispersibility in water. Its water based solution is basically a type of weak acid that has 5.8 to 6.0. PH level. This ph range remains unchanged even when the density of this solution raises. This chemical produces hypochlorous after diluting in water. The hydrolysis constant of this solution is 1×10-4 more than the solution of chloramines-T. The chemical stability of its water based solution is unsatisfactory. It tends to lose higher amount of active chlorine when exposed to UV rays. Low density solution of sodium dichloroisocyanurate is highly effective in destroying all sorts of fungi, bacteria and virus that include hepatitis virus. This water based solution is acknowledged for its high disinfecting properties, cost effectiveness, higher amount of chlorine and easy to comprehend mechanism. Moreover, sodium dichloroisocyanurate has less toxin content and it is preferred over chloramines-T and bleaching powder in terms of its disinfection properties. Along with potassium permanganate, this chemical powder generates acid chloride smoke fumigant or chlorine smoke fumigant when it is blended with acid synergist or metal reduction agents. The produced smoke fumigant emits gas when burnt. The discharged gas has high disinfecting properties.
Chlorine-containing disinfectants
China uses different types of chlorine based sterilizing agents like bleaching powder, sodium hypochlorite, dibasic tricalcium hypochlorite and Sodium dichloroisocyanurate. The sterilization capacity of these disinfecting agents is measured on the basis of their chlorine content. It means, the sterilization effect of these agents is proportionate to their chlorine amount. After diluting in water, these sterilizing agents produce hypochlorous with high disinfecting characteristics. The purification capacity of sodium dichloroisocyanurate is greater than different types of chloramines sterilizers for its stable hydrolysis reaction. The low density solution of sodium dichloroisocyanurate possesses less disinfecting properties than hypochlorite sterilizers, although its high density solution can act against weak acid. In brief, it can be said that fumigating properties of sodium dichloroisocyanurate varies as per the concentration level of its solution. All these disinfecting agents discussed here possess high anti microbial properties that enable these to act against vegetative bacterial spore, fungal spore, virus and bacteria. Sodium dichloroisocyanurate is classified under chlorine based isocyanuric acid sterilizer. Chemicals like trichloroisocyanuric acid, chloroisobromine acid, potassium dichloroisocyanurate and dichlord isocyanurice acid also belong to the same class like sodium dichloroisocyanurate. All these sterilizing agents have high fumigation properties and these are useful for preventing growth of vegetative bacteria, bacterial spore, fungal spore and virus. These chemicals come in handy in dealing with hepatitis virus; bacteria like staphylococcus aureus and escherichia coli; fungus and bacterial spores like spores of bacillus subtilis var niger. sodium dichloroisocyanurate is capable of destroying the proliferation of 99.9% Escherichia within half an hour of their application. It takes only five minutes to kill all sorts of hepatitis virus and five to half an hour to destroy bacterial spores. Moreover, this product is efficient in dealing with hepatitis B surface antigen. Its anti bacterial properties become more prominent in its acid based solution. It shows its high efficacy in killing bacteria in its low ph level. Its chemical properties are stable and its composition does not contain any cancer causing element. It is ideal for sterilization of various processing machinery used in food units, vehicles, water, fishpond, tableware, animal building, utensils, silk farming area and food to name a few. The above mentioned details has been assembled by the Chemicalbook Bai Linlin.
Uses
This chemical is perfect to be used for sterilization of swimming pool water, portable water and industrial water. It is also used as suitable surface finishing agent for fabric in textile industry. This product has a key role in fumigation procedure executed in places like livestock firm, poultry, fish breeding unit and sericulture firm. It is also required for pre shrinking of wool, for elimination of algae from re circulated water in industrial area and for bleaching done in textile sector. It is also utilized as a suitable chlorinating agent in rubber processing industry. Chemical stability, high effectiveness and side effect free content are some of its key features.
As per the GB 2760-96 specifications, sodium dichloroisocyanurate is suitable to be used in food processing industry. It is perfect for sterilization of water and dairy items. It is capable of destroying all sorts of hepatitis B/A virus, spores, fungus and bacteria and is ideal for sterilizing vegetables and fruits, swimming pool water, life gears, building interior and family bathroom.
Sodium dichloroisocyanurate is used for anti-felting based surface finishing of woolen items to ensure their longevity, ease of usage and security. This multipurpose chemical serves as a suitable and efffective sterilizing agent, anti bacterial agent, freshness maintaining elemeny and decolorizer. Basolan DC is classified as potassium dichloroisocyanurate which is required for anti felting surface treatment for woolen items in weak alkali or acidic solution(ph range between 4 to 8). Basolan DC shows its best anti-felting properties in acidic range. It makes woolen items look glossy in alkaline range. Basolan DC has a key role in imporving softness of wool, though it causes yellowish appearance of treated fabric.
Production methods

Cyanuric acid is transformed into chloride to obtain Sodium dichloroisocyanurate. It can also be produced by adopting below mentioned methods:
At first, blend urea and chloride and apply heat to this blending.
Second, transform the heated mixture into acid. When this mixture starts to react as a result of heating, convert it into alkali.
Thirdly, transform the produced product into chlorine post its alkalizing.
Make the product dry.
Chemical Properties

Available in white colored crystalline powder form
Uses
SDIC or sodium dichloroisocyanurate is widely used to disinfect drinking as well as swimming pool water. It is also used to treat contagious ailments and for creating sterilized environment for the growth of silkworm, poultry, livestock and fish. SDIC is also required for bleaching of textile products, shrinking process of wool and industrial water purification purpose. Generally, SDIC is used in its granular and powder forms. We also offer it in tablet form as per the demand of customers. Dichlor or stabilized form of granular chlorine is utilized as an essential element for chlorinating pool water.
General Description

It is notable for its white colored solid appearance. It has distinctive unpleasant smell that resembles to the odor of bleach. It is easily soluble in water.
Air & Water Reactions

Easily dissolvable in water, sodium dichloroisocyanurate reacts with chlorine gas discharged by chlorine bleach. Products with lower than 39% chlorine go through reaction discussed here, though this reaction process is quite time consuming and the produced reaction may not be as forceful as discussed here [AAR 1992].
Reactivity Profile

Its exposure to hydrated slats or ammonium compounds may result in a powerful reaction. It may decay in case it remains in contact with fire or heat for longer period. Even the container which is used to store it may be cracked. Sodium dichloroisocyanurate may ignite flame when it comes in contact with flammable materials [AAR 1991].It produces alkyl hypochloritesin when it is blended with alcohol and chlorine. These tend to decay when exposed to low temperature and burst when contacted with heat or sunlight. The chemical stability of primary or secondary hypochlorites is higher than Tertiary hypochlorites [NFPA 491 M 1991].
Health Hazard

Fine dust particles of sodium dichloroisocyanurate can result in symptoms like coughing and sneezing, slight irritation in the eyes, redness and itching of skin. Inhalation of this product may lead to burning sensation in stomach and mouth.
Sodium dichloroisocyanurate (SDIC, sodium troclosene, troclosenum natricum or NaDCC) powder, granules or tablets
It is mainly used as a disinfectant, biocide, industrial deodorant and detergent.
It is found in some modern water purification tablets/filters.
It is more efficient than formerly used halazone water disinfectant.
In these applications, it is a source of slow release of chlorine in low concentrations at a relatively constant rate.
As a disinfectant, it is used to sterilize drinking water, swimming pools, tableware and air, fight against infectious diseases as routine disinfection.
It can be used as a preventive for disinfection and environmental sterilization, in raising silkworm, livestock, poultry and fish, and also can be used to prevent wool from shrinking, bleaching textiles and cleaning industrial circulating water.


Typical Specification


| | |
| --- | --- |
| Item | Standard |
| Appearance | White powder, granules or tablets |
| Active chlorine, % | 45, 50, 56, 60min |
| PH | 6-7 |
| Water insoluble matter, % | 0.1max |
| Moisture, % | 7max |

Granule size: 8-30 mesh, 20-40mesh, 20-60mesh
Tablet: 0.15g, 0.5g, 1g, 2g, 3g, 5g, 10g, 15g, 20g, 150g


Trade Information
Days after Acceptance (DA), Delivery Point (DP), Letter of Credit (L/C), Letter of Credit at Sight (Sight L/C), Telegraphic Transfer (T/T)

Yes
If order is confirmed we will reimburse the sample cost

1kg plastic cans, 50kg plastic drums, 50kg fiber drum
Asia, Central America, Eastern Europe, Western Europe, Middle East, Africa, South America
Contact Us
3203, 12, Jianwai SOHO, Chaoyang Beijing Beijing China 86-10-58695218
Phone :86-10-58695218